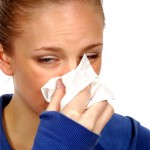 We all get sick. I am not wishing that on you, but it's bound to come – especially for those of you working with young children. How do you handle sick time? I believe this is an important factor in your professional relationship. The family you work for is completely dependent on you. The way that your sick time is handled could easily drive a wedge between you and your bosses or build another layer of trust and respect. This is one of those opportunities to show your professionalism.
I previously wrote this post on the CincyNanny blog. Enjoy!
High5: Planning Ahead for Unfortunate Sick Days
By: Greta Schraer
5. Discuss in Advance
By far the most important thing to do for your sick time is to discuss it ahead of time. Let's face it you will get sick. The last thing you want to do when you are feeling bad is deal with job negotiation. When you start a new position, ask your employers what their expectation is when you are sick. This is definitely one of those grey areas that will be handled differently by different people. Some parents may be OK for you to come in with a cold, others would not. Some parents say they want to see their Nanny symptom-free for 5 days! It is important that you come to agreement before you get to the moment. When working with young children, you may opt for a flu shot each fall/winter. In many cases the family will cover the cost.  It is always good to discuss these options ahead of time, and as early in the parent-nanny relationship as possible.
Read the rest of this post, click here to read it on CincyNanny!