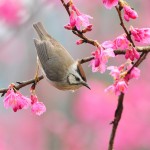 Weekend Round Up
April 4-8, 2011
Do you hear the birdies? I do. I love the sounds of Spring and the hope of warmth and joy it brings. Here at Regarding Nannies, Spring represents preparation. Each of us are members of the International Nanny Association and enjoy attending the yearly conference. We are excited to have a chance to learn, to meet new nannies like ourselves, and share Regarding Nannies with the industry. Planning is under way and you may seen signs of that over the next few months. From speaker interviews to conference follow-up we plan to take you right along with us, though we  do hope to see you in person!
There are new things ahead, but right now here is a look back at another eventful week at Regarding Nannies!
Monday: Surviving the Challenges of a Difficult Position
Tuesday: How Making  Crane can help a Child in Japan
Wednesday: 100th Day Activities
Thursday: Meet Newborn Care Specialist Clelie
Friday: Summer Break, Summer Vacation Schedule and Pay
See ya tomorrow!