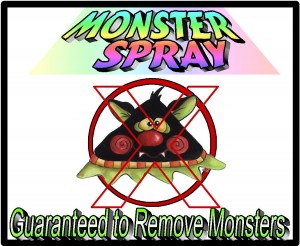 One of my charges was so completely scared of monsters and ghost (thanks to an older sister) when she was about three, she woke up several times a night crying and screaming.
I decided that I would help her help herself by making a Monster Spray Bottle.
You will need
2 Spray Bottles
Glow in the Dark Paint
Glitter
I mixed the glitter and paint together then poured  enough to coat the inside of the bottle, I turned it upside down and let it coat all the sides and dried it this way for two days with the lid off.
While both of the bottles were drying I made a monster and ghost sticker with a prohibition sign
Then I printed out instruction of how to use the sprays.
If you click on this link you can download the label file for the bottle with the directions.
If you want to create it yourself the directions are below.
I put the spray bottles in a brown lunch bag and then  I wrote on the bag,  "The Fairy Store"(because they were totally into fairies) .
The instructions were, Monster and Ghosts Spray directions.
Us fairies do not like it when kids are scared, especially when it involves monsters or ghost.
All the fairies decided to get together to make a magical potion that would keep monster and ghosts away or make them disappear. First, you will notice that you can not see this magic potion, if you wish to see it you must hold the bottle up to a light for a few seconds then turn off the light and it will glow. This is because monster and ghost can see in the dark and do not like this spray because it glows for them all the time. Wherever you spray this potion monsters and ghost will stay far away. You will never see it because you do not have special eyes like the monsters or ghosts. Your bottles have a magic spell on them and your potion will never run out. After you spray your room, bed and yourself and you feel like the monsters or ghost are coming spray in the air and say "monsters and ghosts go away I have the magically fairy spray" This will make them disappear.
It worked. They still have the bottles next to their beds just in case. the paint still glows and they still believe the story, they are 8 and 11 now.
Kristen Kanoski was a professional nanny for 20 years. She is now a full time mom to her son Jack but she still stays involved and in touch with her colleagues in professional nanny field. She also has a blog Beyond Bottles She is also an independent consultant for Tastefully Simple
(graphics from pccrafter.com)