by Andrea Flagg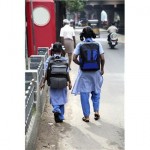 School's open and it's making me worry, I have three schools all within one/two/three blocks of my home. Over the years in my town, unfortunately, there have been several child pedestrian accidents.  The two that stay in my mind are those of the six year old boy, who was walking along the busy main street with his mother, and spotted his friends on the other side.  He was extremely excited to see his friends across the street that he suddenly darted into traffic, and sadly did not make it to the other side. The other child was nine, and walking along the street curb area when a car struck him. Luckily, he suffered only minor injuries.
These tragic events spurred me to research information on Child Pedestrian Safety. The following is what I found by researching  AAA of North Jersey and www.safekids.org.
Very few children under the age of 10 can manage safely crossing the street. I found this to be true while out with an 8 year old child.We were walking in town, on our way to get ice cream and needed to cross the main street.  As I was looking and waiting to cross, I realized she was not paying attention, and kept walking, I had to pull her out of harms way. Children can not judge speed, distance or direction well and are easily distracted.  Something I have witnessed first hand!
Young children think if they can see a car, that a car and see them.  Children are shorter and smaller than adults and given the fact that there are so many SUV'S on the road today, many cars have a huge area in their blind spots. Most children are struck while in streets or driveways near their homes, when they run out between parked cars, walk along the edge of the road, cross the middle of the block or in front of a turning vehicle.
As adults and nannies there are several actions we can take to protect children:
Behave properly when crossing the street in order to be a good role model.
Always hold the child's hand while in parking lots, on sidewalks of busy streets and especially when crossing any street.
As a driver we can help to avoid pedestrian accidents by:
Walking around your vehicle before getting in, to be certain no children are near before driving away.  (SUV's tend the have huge blind spots when backing up.  To help improve your view, install stick-on convex mirrors, which will help maximize your side views.)
Leaving extra time when traveling so that you are not tempted to speed or drive unsafely.
Eliminating distractions in your car, (as nanny I personally know how wild it can be at times with children on board, but children need to be taught proper behavior as passengers and let you focus on driving.)
Never using a hand held cell phone while driving – it is the law.
Using only one earpiece with a portable music player, when walking or biking so that you can hear oncoming traffic.
What we can teach children:
Not to cross the street alone if they are younger than 10.
Stop at the curb before crossing, and when it is safe, do not run; walk.
Cross only at corners, using traffic signals and cross walks or going to a corner where a crossing guard is on duty.
Look left, right and left again before crossing, and keep looking even while crossing, sometimes traffic can appear out of no-where.
Walk facing traffic.
Make eye contact with drivers before crossing in front of them to help insure that they are aware of your presence.
Do not play in driveways, streets, or parking lots and especially between cars.
Have identification with you and always wear reflective clothing at night.
With so many vehicles on the roads we need to prepare ourselves and the children, by teaching them to follow these guidelines, surely we will aid in avoiding pedestrian accidents.