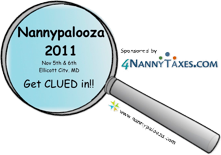 Have you registered yet?  Or are you still debating attending Nannypalooza 2011?  What's stopping you?  You don't want to get together for a weekend of learning, networking, meeting new friends or socializing with your professional peers?  This event is a great opportunity to do all the above and so much more!
Nannypalooza coordinators have lined up some amazing speakers.  Here we bring you another line-up of great presenters and workshops.
The What, Why, and How of Addressing Problem Behaviors with Early Learners: A Behavior Analytic approach with Maureen Rushton, BCaBA
Are you tired of giving the same consequences or having the same talks with your child, only to see no change in behavior?  Do you feel like you are walking on eggshells when you take your child to the grocery store or to a play date, praying that a tantrum does not erupt? Understanding and dealing with your child's tantrums and other problematic behaviors can be overwhelming. Learn how the principles of Applied Behavior Analysis can increase your chances for a more successful outcome when addressing your child's inappropriate behaviors.
This informal group discussion will be lead by Maureen Rushton, a Board Certified Assistant Behavior Analyst and Behavior Consultant for The Shafer Center for Early Intervention.
'Why Do They Do That?'  What We Now Know About Developing Healthy Brains with Linda Lombardo Ph.D.
We are learning more every day about the human brain and how it develops.  Brain-based explanations of developmental behaviors and issues help us not only better understand the babies and children with whom we work, but also develop strategies for nurturing healthy, happy childhood experiences.  This workshop will present current research in simple and practical terms and generate ideas for applying neuroscience to everyday life with kids.
For more than forty years, Linda has worked with children and families in a variety of roles- as a teacher, school principal, family counselor, and yes- as a live-in caregiver. Currently, She is the director of Lighthouse, Inc., a youth and family services center in Catonsville, Maryland.
Presenting Yourself as a Full Charge Professional Nanny with Marta Perrone
Today's Nanny needs to be trained and experienced in all areas to impress a prospective employer and secure employment. In addition to an impressive resume, good interview techniques, and negotiating a protective employment agreement, becoming full charge and presenting yourself professionally to a family is vital. Marta will discuss these and other aspects of your career development.
Marta attended UCLA majoring in Spanish and linguistics. When she started her own family, she realized the importance of hiring proper household help to assist new mothers. In 1989, Domestic Connections was born. Marta is the author of the 2009 Mom's Choice Award winner "Help! How to Find, Hire, Train and Maintain Household Help" and in 2010, she launched "The Professional Housekeeper" a DVD and book set also winning Mom's Choice Award in 2011. Marta presents workshops and trainings across the country to household employers and employees of the private service industry. www.martaperrone.com
Ask the Experts: A Nanny Agency Panel Discussion with Lorna Spencer of A Choice Nanny, Barbara Kline of White House Nannies, and Marta Perrone Household hiring expert
Do you want to know what parents are really looking for when searching for a nanny? Ever wonder how you are screened before being placed with a family? Never use and agency because you weren't sure of the benefits? This candid discussion allows  you to ask some of the top names in the nanny business all your questions. The discussion will feature information on matching with a family, what it takes to score a high paying job, what to look for in an agency and more.