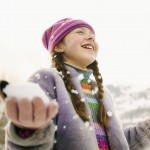 I'm sitting here watching the snow fall on Saturday, October 29, 2011 remembering when I was little growing up in MN how we would always get our first snow the week of or on Halloween. Yes, I have even gone trick-or-treating during a snow storm, and watched as my plastic princess mask flew away over the roof of the neighbors house.
So if you're sitting at home or work on this snowy day, sit back and catch up with the posts from this past week.
On Monday, guest post by Pat Cascio of Morningside Nannies brought us The Professional Nanny and the Professional Nanny Agency, and how the two should work together.
On Tuesday, new mom Greta provided us with her Favorite Things: Top 5 Nursery Organizers.
Get creative with your pumpkins and surprise your little goblins with Dinner in a Pumpkin.
Thursday our guest post from CincyNanny was Teaching Children to Care, something we all strive to do, but can always use new ideas and insight.
Friday, the Financial Nanny asked us if we have Financial Literacy? Learn what the Girl Scouts are doing to instill Financial Literacy in young girls today!