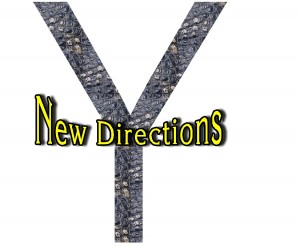 This series called "New Directions" features  interviews with nannies that branched out into another aspect of the business, had to add something to be able to stay in the profession, or left the profession entirely.
My goal during the course of these articles is to show you that you have choices, and that sometimes "new directions" can take you to new growth.
Glenda
Today we are talking with Jamie Kinney Beastrom a former nanny who lived in Maryland. Jamie was very active in ADCAN. She is now the mother of 4 and lives in Wyoming.
How long were you a nanny? I was a nanny for almost 11 years; September 1989 to July 1999 for one family inMaryland(a girl and twin boys), then August 1999 to June 2000 for another family in Virginia (twin girls).
How long have you been out of the field? I have been out of the nanny field for 12 years.
When did you realize that it was time to make a change?  I'm not sure what made me change my mind. I think it was more of the direction my life was going rather than being done as a nanny. I had a wonderful, supportive nanny family and I knew that I needed to finish my student teaching and couldn't give 110% to both so I moved into a house with a college friend.
I was completing my Bachelor's degree in Early Childhood Education and was completing my student teaching portion. I was not able to support the kids/family having more college demands. After graduation and 6 months of substitute teaching (and a long distance fiancé that didn't like big cities), I decided that my living across the country wasn't what I wanted anymore and I wanted to be closer to my family.
Towards the end of my education, I became engaged to my High School sweetheart that lived inSouth Dakota. There was no way he was moving east, and I wanted to be closer to my family inWyoming.South Dakotawas a good fit.
How is parenting your own child different than parenting someone elses child/children? I became a parent in 2003 ~ Parenting my own children was very similar to my nanny job! I started my nanny position with a 2 year old and 3 months later we added twins. This experience has helped me tremendously when I became a parent because my first pregnancy was twin girls. I felt I was more prepared having previously helped raise twin boys as a nanny.
Was it difficult to come to the realization that you were going to have to leave the nanny profession? I tried to leave once about 6 years into my job. I had decided that I wanted to attend RIT inRochester,NYas that was where my schooling was headed. My nanny family had a nice talk with me regarding the 'future' and suggested that I take what I had in classes and transfer to UMD to finish my Education degree, then transfer to RIT if that was what I still wanted to do. That way, I'd have something to fall back on if RIT wasn't what I wanted.  As I neared the end of my Bachelor's degree, I realized that RIT wasn't the answer for me. When I was ready to move back home, it was very difficult for me to leave my family and friends that I had made.
Did it come to you gradually, or was it an epiphany when you realized there was something else you wanted to do? I love working with children and after getting my degree in education, I was a substitute teacher forMontgomeryCounty. My personal life had changed and that was pretty much what brought me back toWyomingcloser to my family. I'm still an active part in many children's lives … just not living with them!
Did you view it as a positive change or a negative change? It was a positive change for me!
Do you miss working as a nanny? I do miss working as a nanny sometimes. It seems like I work just as hard now as a parent as I did as a nanny. I'm just as involved with my own children's activities as I was in my nanny kiddos' activities. I think what I miss is being able to just be done at the end of the day. I didn't have to do laundry or major housework, I didn't have the bills I do now, and my nanny family traveled to wonderful places!
Do you stay in touch with any of your nanny friends? I thank Facebook for keeping me more in touch with my nanny friends.
Do you stay abreast of what is going on in the field today? I try to, probably not as much as I did when I was a nanny. I enjoy watching/reading movies/books about the nanny lifestyle! Some are so out there that I find it hard to wrap my brain around, although they do bring back some wonderful memories!
Tell us a little bit about what you are doing now. Right now, I am a parent to 4 children ~ Claire and Emily are 9 and headed into the 4th grade. William is 7 and going into 1st grade and Hailey is 5 going to Kindergarten. I worked as an Early Head Start Homevisitor for 5 years when I moved back to SD, then when I couldn't find quality childcare, I opened my In-Home childcare business. My husband transferred jobs and that brought me back to my hometown inWyoming. I taught pre-kindergarten for 5 years and now just started my new position as a Family Service Coordinator for Birth –Three CDC.
Tell us what you learned as a nanny that is helping you in your current job, career or profession? I very much remember coming out of an IEP meeting with my nanny mom and she was in tears. The therapists were very clear to point out what my charge was not able to do … forgetting what she could do!! I made it a point to interact my charge with everything and everything to help her to be successful! That meeting memory has made me a better communicator with my current parents going through that same process.
What advice would you give to nannies who are still in the profession but struggling with whether or not they should stay or go? If you are struggling with staying then it's time to go! Whether it's to another family or to another profession, always go with your gut feeling!
What advice would you give to other nannies? My number one advice is to have open communication with your family! I was very fortunate to have a family that valued me as an employee and yet treated me as a part of the family. They took a major chance with a young woman (age 18) from theMidwestand supported me as I matured into a grown woman. We were able to talk through pretty much everything and stayed all on the same page. Again … go with your gut feeling! Second ~ take advantage of the several support groups and nanny conferences that are now being offered!  I found great support in ADCAN and really enjoyed serving on the board, all the volunteer opportunities, and the friendships I developed.
What do you wish you had known then that you know now? I wish I would have not played my money away! I did not have room/board, food, car insurance and I took out student loans ~ for shopping, traveling and just playing! I wish I would have attended more conferences that were just starting out.
 In hindsight, do you think your decision was a good one? I would not have changed any of it for the world!! My decision was a good one … both to leave Wyoming to pursue a nanny job at the age of 18 and fresh out of High School and to return home ready for a different path.
Would you do it again? I'm not so sure I'd do it again, and the only reason I say that is because I have rooted my family here inWyoming. Uprooting them and their lifestyle as well as my husband would not be beneficial.
Thanks Jamie for sharing your experience with us today. It was great to catch up with you again!
Interview by Glenda Propst