Over the years, one of the most essential tools for anyone is to create their own business card.  Formerly used only for professionals, the card is now the easiest way to pass on all the necessary information to network with all the various people that we meet every day.  But what are the best practices in the digital age?
Essential information for different situations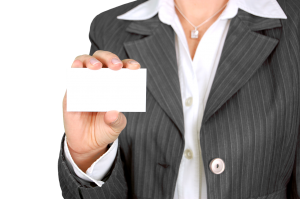 First and foremost, let's define the essential information for all cards:
Name that you actually use – if you are "Christine" but everyone calls you "Chris," use that.
Catchy or descriptive title, such as "Professional Nanny with a Heart" or "Experienced Nanny Specializing in Infant Care"
Telephone numbers.  If more than one, specify cell or home.
Email address.
Social media address that you use for networking – if LinkedIn.com is for job hunting, but Facebook is to pass on pictures to friends, only use LinkedIn.
Website or blog that showcases your work (optional).
Notice that there is no physical address in this list.  When people follow-up after meeting you, it is usually by phone or electronic means.  Plus, if you live on-site, this protects the principals' privacy.
Next, determine your objective with the card.  Of course, job seekers need cards for new contacts at networking events. If that were the only objective, then card should include some key skills or talents, usually on the back of the card.  However, if the use is for general networking, you can use the back of the card for your interests, such as playgroups.  If your goal is more social, then it is acceptable to list your casual/ fun social media addresses, such as Facebook.
If you are establishing yourself as an expert in the nanny world, your card may list multiple websites or blogs.  You would normally include your professional social media accounts.  In this case, the back of your card may include a list your areas of expertise.
More than one purpose?
If you are trying to promote multiple aspects of yourself, you may want to consider more than one business card.  However, this is rare.  For example, if you worked for years as a nanny but now you are trying to build a placement business, then you need two cards.  Why?  Because each card projects a different message through its contact information, marketing focus and image.  Which brings us to…
Pictures, drawings and graphics
Using a high quality head shot picture is usually a good idea, as some people remember faces better.  However, make sure it doesn't show your charges' faces; that is a breach of confidentiality for your employer.
Some people prefer to use a graphic or drawing on the card instead.  That works too, as long as it supports the image you want to project.  I have seen many cards that had generalized graphics, and wracking my brain trying to remember the person was always tough.
Where to get cards
Fortunately, there are several online sites to get high quality cards at reasonable prices.  Most let you design a card online as well.  www.vistaprint.com is one of the most widely used services.  www.inkgarden.com has many designs that translate nicely into nanny images.  http://us.moo.com has creative print options.  https://www.canva.com/create/business-cards/ allows you to create exciting new cards or give your current cards a refreshing new look.
One last tip: DON'T get a glossy finish on your business cards.  This way, you can write a personal note on the card as you hand it to your newfound contact.
About the author
Donna Shannon of The Personal Touch Career Services is one of the few career coaches who works with the private service industry.  Based in Denver, she has been teaching job searching workshops since 2004. Her book "How to Get a Job Without Going Crazy" (2012) is now in its second edition, and available on Amazon.com in paperback and Kindle formats.