Statistics can sometimes be slanted to tell a different story, and it looks like that may be the case with recent unemployment figures. The unemployment rate in the U.S. dropped to 5.9 percent in September, the lowest since July 2008, according to the Bureau of Labor Statistics. But meanwhile, the labor force participation rate fell to 62.7 percent, the lowest since February 1978. This is, however, good news for nannies, freelancers, part-timers and other contract-type workers; it means there are fewer people to compete with when searching for employment. Of course, it's better to look for a new job while you're still employed, but that's not always possible. These three budgeting tips will help get you through until paychecks start coming in again: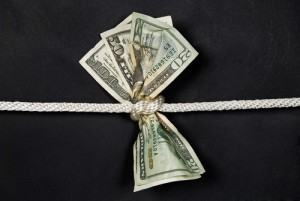 Slash Your Food Bill
A 2012 Gallup poll found the average American spends about $151 per week on food. But 8 percent of those surveyed in that poll reported spending less than $50 per week on food. The goal here is to be part of that latter group without sacrificing your health and well-being.
The bottom shelf, generic foods can sometimes cost half the price of the brand name, eye-level stuff that is typically marked up solely for the fancy labeling. Daily Finance did a taste comparison of several brand name versus generic foods and found most of them to be very comparable. Further, a 2014 National Bureau of Economic Research study found that chefs (yes, professional cooks) tend to buy more generic foods than the general public.
Rice and beans can be bought in bulk to make all kinds of tasty, healthy dishes like Cajun Red Beans and Rice or Italian Bean and Rice Soup. Another idea is to volunteer at a local shelter or food bank a few times a week. You'll get free meals, while simultaneously doing your local community some good.
Cut Transportation Expenses
Granted, gas prices have dropped recently, below $3 per gallon in some areas. But when money is tight, driving becomes a luxury as opposed to a necessity. The average American driver spends about $85 per month on insurance and $200 on gas, according to AAA. This doesn't even include oil changes, maintenance and emergency repairs that could potentially wipe out your savings.
Ride a bike or take public transportation instead. If you don't have a bicycle, pawn shops sell them for cheap. You will be surprised how much money this will save you.
Budget, Plan & Make Do
Those who have a little savings simply need to make it last until the next job. Money-saving ideas include:
To lower your utility bills, unplug all appliances and electronics in your house when they are not in use
Download a personal finance app like Mint.com to create a budget and track your expenditures
If you have an extra room in the house, bring in a roommate to substantially cut your monthly living expenses
Ask friends and neighbors if you can pick up any odd jobs during your downtime
Consider selling some of your material things in a yard sale or on Craigslist
If you're currently receiving regular payments from a structured settlement or annuity, you may be able to sell your future payments for a lump sum now
You could also go back to school half-time (at least six credit hours) and take out student loans to help pay the bills
Your persistence will ultimately pay off with a new job. But don't stop budgeting when you start receiving paychecks every week again. Practicing all these habits while employed will make the next down period that much easier.