Today we revisit a past post just in time for the holidays.  
 What do you get for the employers who have everything? Or in my case, for a boss who goes and buys what she needs or wants!   As nannies,  finding unique gifts either from you and/or the kids for holiday's or special occasions can be daunting.
Here are some of my tried and true favorites that have received rave reviews and many accolades from the recipients …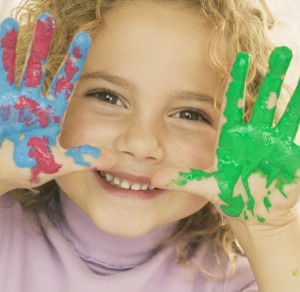 Hand painted pottery. Kids love being creative.  Take them to a local paint your own pottery place and let their imaginations soar.  While the kids are busy with their 'creations' you can get creative as well with your gift.  Most memorable are platters I have done for the families, using the kids handprints and in one instance used their footprints!  Handprints can be used to make reindeer and antlers for a holiday platter or a turkey for Thanksgiving.  The feet can be turned into butterflies for a whimsical Mother's Day or birthday surprise.
Anything hand-made. From a painted photo frame to a painted rock paperweight, parents love anything that little hands have made.  This is when the Ultimate Craft Kit comes in very handy.
Photo Books. Do you have piles and piles of kids' artwork taking up space in your home?  Preserve those creations in photo books!  Scan the artwork, or take a photo and upload to create the book.  This also makes a great gift for grandparents and other special people.
Photo Calendars, Mugs and more are ever-popular and easy to make.  Collect favorite photos throughout the year and create a calendar.  Services such as Vistaprint, InkGarden, Snapfish, Smilebox, and many more offer endless creative ideas and templates to create using photos.
Scrapbook! For you scrappers out there, you know what I mean about this hobby being addictive.  I started scrapbooking with my last nanny position and was once told if there was a fire in the house, mom would save the kids, the dog and the scrapbooks!   Scrapbooks can be a simple reflection of an event, or a timeline of a life.  Scrapbooks are treasured keepsakes any parent will love.
Not so creative, but definitely appreciated – Date Night. Offer to babysit one night a month, or every other month and have the parents do date night.  During the holidays, I would purchase a gift certificate to a favorite restaurant, a nice bottle of wine and babysitting as the parents' gift.
For many it's not the amount spent, but the thought and preparation that goes into the gift.  For mom's birthday one year, the kids and created a restaurant in the apartment we were staying and the kids made the meal, served the meal, made the menu, served as host and hostess and much more.  Mom still talks about that, and it was over 10 years ago we did that.
So there you go!  Ideas to get you going and thinking for the holidays ahead – Mother's Day, Father's Day, and Birthday's, Hanukkah, Christmas and more!
Kellie Geres, Regarding Nannies Development Team.