Your teen is always on the Internet. And you're probably scared of online dangers like bullying, identity theft or even a predator. These are definite concerns, but what will you do to keep your kids safe? Pay attention to your teen's online habits and talk about Internet safety.
Confused on where to start? Take a look at these common online habits and know the risks to you and your kids.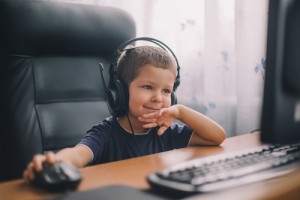 About 75 percent of teens frequently visit social networking sites on a daily basis. You don't think anything about this until it hits home. If you notice your teen seems more withdrawn, skips meals and activities or grades start to drop, all signs point toward depression. How does this happen? Constant checking of statuses and social network feeds may shatter your kid's self-esteem and spark unrealistic expectations in his or her social life. Don't wait until this happens to your teen. Ask questions and watch for unusual behavior.
Gaming
Backpacks drop on the floor and your son barely has time to say hello to you when he comes home from school. He heads straight to the living room, turns on the television and starts playing video games. Your son isn't alone.Research shows 91 percent of kids are gamers. What is the danger to your son? Many games allow people to communicate with kids anonymously, leading to startling concerns: predators, scam artists and cyber bullies. They might harass your son or worse, try to set up an in-person meeting. What should you do? Warn your son about giving out personal information, meeting with anyone he connects with online and keep the gaming console in an easy-to-supervise spot in your home.
Your teen isn't asking to go to the mall anymore, but wants your credit card to shop online. Though you thought you'd be forever shuffling your teen from one store to another, 70 percent of teens prefer visiting stores online. Convenient, right? Think again. More teen usage means an increased risk of identity theft. If your teen is using an unsecured network to make a purchase or accidentally gives out information to a hacker, your family might see some of the unauthorized charges on your future statements. Sometimes you don't even know until it is too late if a thief uses your teen's Social Security number to open a fraudulent account under your his or her name. It is good idea to check your teen's credit report and also keepLifeLock feeds bookmarked for more tips on protecting your kids from identity theft.
Blogging
These days it seems like everyone has a blog and now, your daughter wants to start writing about her fashion choices and post these ideas online. It is a harmless new hobby for your daughter, until the Internet bullying begins and some anonymous creep is posting inappropriate comments on her blog. Something which began as an innocent activity and a way for your daughter to exercise her independence is a nightmare now. Sometimes the only choice is to take the blog down, but you may consider setting up the site so only family has access to her website.
Your kids aren't going to unplug anytime soon, but it doesn't have to come at a hefty price. Pay attention to online habits so you are in a position to protect your teen.
Related articles