Caring for a child is priority No. 1. Whether you're a caretaker or a parent, you can benefit from practicing these child safety tips around the home.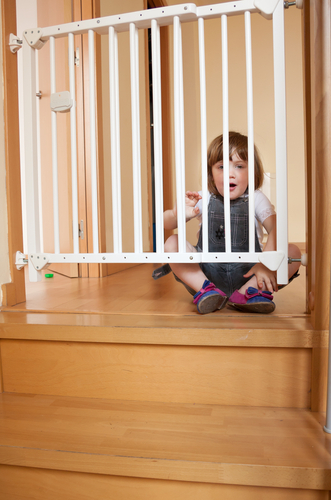 Install a Home Security System
According to data reported by SafeWise from Safeguard the World, more than 2.5 million home intrusions are reported in the U.S. annually. Additionally, homes without a security system are 300 percent more likely to be targeted or broken into. Installing a comprehensive, high-definition security camera system can not only give everyone peace of mind but deter criminals as well.
Always Use Safety Plugs
Electrical outlets are in perfect view for crawling babies and curious toddlers. Covering up all of the electrical outlets around the home with outlet covers is crucial to keeping children safe. The outlet covers that your parents may have used may not be as safe as was once thought.
Parenting safety experts cite that plastic outlet plugs can pose a choking hazard to children and tend to loosen with use. Instead, caretakers and parents should install covers that screw into the wall and slide closed when the outlet is not in use.
Keep Watch with Child Monitors
Child monitors provide a close look at how children are sleeping and what they're up to at night or during daytime naps. Monitors and listening systems will alert you if a child is crying, and many devices on the market today come equipped with powerful video monitoring technology so you can actually see and hear the child when he or she is in another room.
However, a monitor cannot replace your special attention and shouldn't be relied upon at all times. Be sure to check in on the child to ensure that he or she is sleeping safely and soundly.
Create an Emergency Contact List
In the case of emergency, every family should have an emergency contact list posted in a visible or easy-to-find location somewhere around the home. Having a list of emergency contacts makes stressful situations easier to control. An emergency contact list should include important phone numbers such as the family doctor, close relatives, and both parents' work and cell numbers.
Additionally, include on this list important information such as a child's allergies or special medical information. If the family that you're currently nannying for does not have an emergency contact list, talk to them and stress the importance of having one in the home at all times.
Use Safety Gates Inside and Outside
Not only is it important to use safety gates inside of the home such as at the top and bottom of the stairs or in off-limits areas, it's equally important to use them outside the home as well. Certain areas of the yard such as the family pool pose a serious threat to a child's safety.
According to the U.S. Consumer Product Safety Commission, nearly 300 children under the age of five drown in home spas or swimming pools each year. In just seconds, a curious child can escape your view and be just steps away from the water's edge.
Make sure that all in-ground or above-ground pools are equipped with a locking safety gate. In addition to pool fences or gates, pool covers can also be used to keep kids safe.