Making a Difference, One Child at a Time
An Interview with Gary James, Owner of Connecticut Domestics
by Kellie Geres, Regarding Nannies Development Team Member & Michelle LaRowe, 2004 INA Nanny of the Year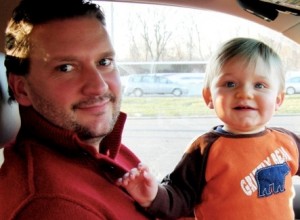 Originally from England, Gary James was a professional athlete whose career ended after an injury. Not wanting to stay in the sporting field he was unable to compete in, he moved to Colorado Springs, Colorado, where he met his wife of 18 years, worked his way up in the service industry and became an estate manager for many well-known celebrities.
While in the role of estate manager, Gary had to hire and fire many staff members. Over the years he realized that there had to be a better way to find the right person for the job without investing so much time, energy and money. Based on the idea that every potential staff member should be interviewed at least twice, the first time to go over their credentials and to gather their basic information and the second time to be interviewed on camera so that the interviews could be sent to the client prior to meeting face-to-face with a potential client, he launched Connecticut Domestics.
As the parent of five children, one with autism, Gary knew firsthand how hard it was to find a proper caregiver to care for his son. As a result of his negative experiences, he expanded his business to include a service specifically designed for parents with special needs children.
Nannies 4 Children with Special Needs is a placement service that is free to families who have a child diagnosed with autism or another special need. "Parents who have special needs children often feel that they have to protect their child more than anything else.  It's almost like parents feel like it's their fault that their child has special needs, and as a result they have huge amounts of stress, sleepless nights and sadness because they can't afford the best treatments or care. What I offer to these parents as a free service is not much, but it is the least I can do with the resources that I have through my main agency."
And clients appreciate his no cost services. One client shared
"I looked on the Autism Speaks website and saw a link to Gary James companies Connecticut Domestics and Nannies 4 Children with Special Needs. It is difficult to put into words the relief I felt having spoken to him. To find someone who truly understands what it takes to find the right person, with the necessary skill set and personality for a particular family [and situation] is a huge relief."
Nannies working with special needs children must be chosen very carefully. They must have prior experience working with special needs children with a family or as part of their early childhood education curriculum. They must pass background screenings and have outstanding references.
While the placement income from Connecticut Domestics currently supports the roughly $500 in costs associated with each nanny he places with a family who has a special needs child, Gary is okay with that. "I decided long ago that if this business was going to be driven by money, I would lead a stressed and unhappy life. While making money is always good, I'm here to make a difference."
Gary is also working on a comprehensive resource list that contains the individuals, facilities and businesses that service the Connecticut special needs community. Gary says that it is his intention to interview every individual or business on his resource list so that parents can learn about what they offer. "Anyone can say they can help. I intend to visit every park every camp, every doctor, every therapist and even every charity to see what they are really about." Gary will post overviews, reviews and more on his blog www.n4cwsn.wordpress.com.