We had a great group of entries on our Deborah Diesen book giveaway. It was one of our most popular giveaways to date here on Regarding Nannies. We had professional nannies, parents and even a few dads enter.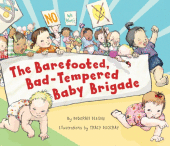 We would like to congratulate the winner: Valarie Gauntt. Valarie, you have 48 hours to contact us here at Regarding Nannies and give us your shipping information so we can get your books mailed off to you. A special "Thank You" to author Deborah Diesen for donating her books for this give away.
In case you missed something this week on Regarding Nannies, here are the links.
Monday Moxie: Alice shared information about Celiac's Disease Awareness
On Tuesday Tips: Alice had great information about Childhood Obesity.
Wednesday Creative Nanny: Greta shared how to make an "All About Me Book" with the children in your life.
Table Talk Thursday: Glenda's interviewed a nanny in the Midwest "Making the Best of a Bad Job in a Soft Economy"
Financial Friday: Breedlove and Associates shared with an article on Temp Nannies and Taxes.

Next week is a very special time in the field of Professional Nannies. It is called National Nanny Recognition Week and in 1998 it was the brainchild of Mary Clurman and Judi Merlin. Their vision was to create a week where we would set aside a special time to recognize nannies and the contributions they make to the lives of family and children. In 1999 the National Association of Nannies was given permission to make this celebration their own. The National Association of Nannies folded in 2005 but NNRW continues to be celebrated each year.
This year the National Association of Nanny Care has combined the Nannypalooza concept with a celebration called Nannies Across America. We will be focused on this very special week of recognizing nannies.
On Thursday here on Regarding Nannies we will have a day of Nanny Notes. If you would like to send a note about a fellow nanny, a support group leader, your nanny or your child's nanny, we would love to hear from you.
Write a few lines (up to 50 words) about a special nanny and on Thurs., Sept. 23rd we will post your NANNY NOTES! Share your names or make them anonymous! Email your notes to regardingnannies (at ) gmail.com by 7:00 p.m.
EST on Weds., Sept. 22nd and tune in Sept. 23rd to share the love!