One of the most important life lessons we can instill in the children in our lives is the importance of "Giving Back"
My long time friend and fellow professional nanny, Shelly Buller wants to share with you how one of the most recent school shootings touched her life in a very real way and ask you to consider sending a card to Amina Kocer Bowman.
Introduction by Glenda Propst, Regarding Nannies Development Team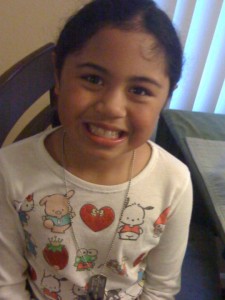 Cards for Amina by Shelly Buller
My name is Shelly Buller and I am a professional nanny in the Bay Areea of Northern California.  I hope I can take a moment of your time and share with you something that has been on the forefront of my mind.
As some of you may have heard in the news, Amina Kocer-Bowman, an 8 year old girl from Bremerton, Washington was accidentally shot by a classmate who had brought a gun to school in his backpack on February 22, 2012.  Sadly, we hear of school shootings far too often.  But this one hits especially close to home for me.  Amina is my boyfriend's niece.
Amina, a beautiful little girl who will be celebrating her birthday soon, loves the color purple, Hello Kitty and basketball, has just recently undergone her 5th surgery and there may be many more to follow.  But, she is a fighter.  She takes after her two strong parents and big brother.  The road to recovery will be long, but she will be lucky enough to walk it with the love and support of so many around her.
Love and support has been flowing in from all over the country.  Complete strangers that have heard of Amina's story have sent cards, care packages, donations, words of encouragement and prayers on a daily basis.  Fundraisers have started popping up all over the Bremeton, WA area and the community is doing everything in their power to help.
The cards from around the country have meant so much to Amina and her family and I have started a facebook campaign among my friends and colleagues to encourage others to send cards to Amina.
If you would like to take a minute to drop a card in the mail for Amina, her family invites you to address it to:
AMINA KOCER-BOWMAN
PO BOX 2603
BREMERTON, WA 98310
If you are a member of Facebook, you can also go to:
http://www.facebook.com/FriendsofAmina and keep up to date on how she and her family are doing.
Please keep Amina and her family in your thoughts and prayers!