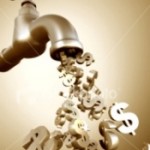 Statistics about the average American who saves for retirement, plans for vacation or even sets some money aside for emergency funds is a little scary.  We are estimated to save only 2.7 cents of each dollar we earn!   Most of us live pay check to pay check.  As soon as we receive our pay, we automatically split it up between mortgage or rent payments, phone, gas, and all our different bills.  The remaining balance is used for that Starbucks coffee, an afternoon ice cream and that must-have-outfit at the mall.  Once we add them all up, we realize our salary is gone and we find ourselves anxiously waiting for the next pay day.
This unfortunately is reality for the vast majority of us, even though we are aware we have no guarantee our wages will keep coming in forever and know that our situation could change and our wages decrease or even stop!  Household employees, in most situations, live under this pattern.
Household employees' jobs are temporary, in most cases.  Nannies, for example, know their charge will outgrow his need for his nanny.  He will start attending school and her hours will be reduced and will stop eventually.  While this does not apply to all situations it is the experience of many household employees.
Now is the right time to start planning for our future.  How?  Start saving a small amount per pay check, something that would not affect your finances, but that will allow you to see your nest egg grow.  What about $10 a week?  At the end of the year, you will have $520!  Have your employer split your part of your take home pay to a savings account, before you receive the money in your hands … you would start saving without even noticing!
Employees paid through HomeWork Solutions can split their payroll direct deposits at no extra cost!  You just fill out a simple form and your direct deposit is sent to two different accounts.  Employees select the percentage or flat amount they would like to go to each account.  Plan your future, today.  Talk to your employer now!
What would you like to start saving for?
by Vanessa Vidal, FPC  HomeWork Solutions Inc. (4nannytaxes.com)